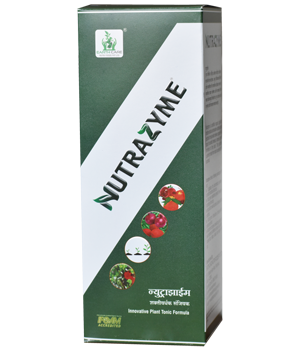 Nutrazyme : Innovative Plant Tonic Formula
Nutrazyme is certified organic agriculture fertilizer and also an innovative nutritional organic plant tonic formula which delivers organic N-P-K, traces of essential minerals, vitamins & growth hormones to the plant. This nutritional supplement made from natural sources like plant and animal.
Nutrazyme delivers following advantages to the plant.
It activates the biochemical Synthesis & enzymatic functions in the crop
It also gives vegetative growth, flowering and fruit setting in the crop
Helps plant to work in stress & adverse climatic conditions.
NutraZyme stimulates photosynthetic processes in plant & also provide required amino acid combinations for protein synthesis in the crop
NutraZyme improves overall crop quality, yield due to enhanced activities of plant & also help to increase size, shape, colour and length of the crop.
Time of Foliar Application - During Vegetative growth, flowering, fruit development & stress conditions Can be apply to all type of crops for foliar application as per requirement and stage
Dosage - varies from 1.5ml to 2ml per lit of water for foliar application depending upon plant stage and type of crop.
Packing for Retail Sale- 250 ml, 500 ml, 1 L
Packing for Bulk Sale – 50L, 200L & 1000L