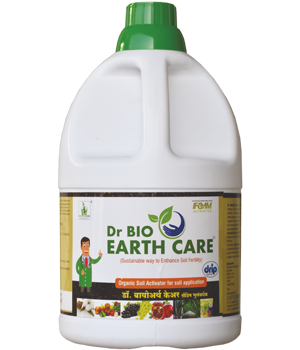 Dr BioEarth Care- Organic Soil Activator for Soil Application
Dr. BIOEARTH CARE is a certified organic soil & plant activator (organic agriculture fertilizer). It is an innovative formulated blend made from carefully selected natural, organic additives & biological ingredients. These ingredients stimulate soil biological activity, thereby improving the cycling and availability of plant nutrients, soil fertility and health. It works as plant activator whereas it activate the defence genes in plants by providing signals via the signal transduction pathway mediated by some organic acids generated in situ formulation. Together with good farming practices and management that enhance organic matter and soil structure development. This product also assists in mobilizing available nutrients and plant uptake efficiencies.
Dr. BioEarth Care delivers following benefits to soil
Improves soil and root structure, also promotes early rooting & nutrient holding capacity of the soil.
Promotes vegetative growth, flowering, fruit setting & development.
Chemical fertilizer use can be optimised with consistent use of Dr. Earth Care
Also , enhances taste, size, flavour and post harvesting shelf life of the fruit
Supports plant to work strongly in abiotic and biotic stress conditions
Dosage
For Soil Application (Drip/Drenching) - 3-5 Litre/Acre (7.5 – 12.5 Litre/Hectare)
Time of Application
First Time:  At the Start (for white root development) / At the time of flowering of plant.
Second Time: Fruit Setting, Development etc.
Third Time: At the time of pre harvesting.
(This product also may be applied as per requirement of plant with different fertigation stage)    
Packing for Retail Sale: 1L, 5L & 20L
Packing for Bulk Sale: 50L, 200L