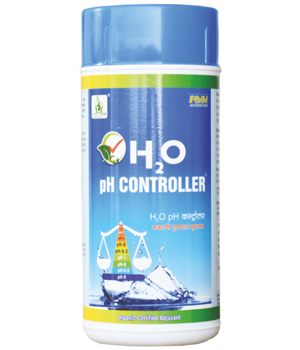 H2O pH Controller - Organic Soil Salinity & pH Controller
H2O pH Controller is certified organic adjuvant containing organic buffer that will safely lower water pH while minimizing the potential for damage to equipment.H2O pH Controller has non-foaming properties with unique organic formula that can be used with foliar nutrients, fertilizers and crop protection products. It forms inactive complex with elements like Ca, Mg, and reduces salinity in soil as well as spray water for desire plant growth.
H2O pH Controller delivers following benefits
It also helps improve water retention and water quality
It prevents alkaline hydrolysis and increases performance of insecticide, herbicide foliar nutrient and PGR.
Improve the performance of fertilizers, bio- stimulants, insecticides, fungicides and herbicides.
Improves nutrient uptake and pesticide stability
It can be use with foliar sprays to adjust the tank solution to near pH of 6.0 for increased uptake efficiency.
It also can be use in soil through drip irrigation and fertigation systems to improve performance of fertilizer and to reduce soil salinity
DOSAGE
For Foliar Spray
For Hard Water- 1 ml / Litre of water
For More Hard Water- 2ml / Litre of water
(Dosage depends on pH of available water and shall not be used in excess quantity)
For Soil Application
For drip irrigation or fertigation system – 500- 1000 ml / acre (1.25- 2.5 Lit/ hectare)
Note: Specific use rates will vary with conditions of applications such as pH of soil, salinity present in the soil, water hardness, application method, equipment, spray droplet size, condition of foliage, etc.
Packing for Retail Sale: 250ml, 500ml, 1L, 5L
Packing for Bulk Sale: 50L, 200L