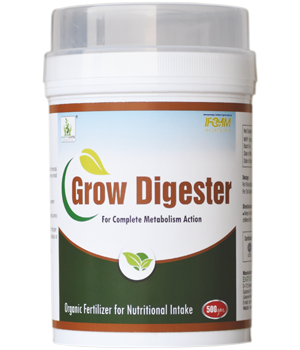 Grow Digester- Organic Fertilizer Metabolism in the Plant
Grow Digester is an unique combination of vital amino acids, proteins, traces of minerals & vitamins for overall growth of crop from plantation to harvesting. It improves overall metabolism in plants resulting into vigour growth of crop and fruits.
Grow Digester delivers following advantages to the plant.
It improves pollination , flowering , fruit formation, fruit setting and fruit development
Helps to improve photosynthesis , vegetative growth , stress resistance etc
The basic component of living cells is proteins, with building block material amino acids. Further proteins are formers by sequence of amino acids.
Grow Digester can directly or indirectly influence the physiological activities of the plant
It Helps in improving the microflora of the soil thereby facilitating the assimilation of nutrients
Increase overall quality, shelf life and yield of the crop/fruit/plant/vegetables
Dosage –
For Foliar Application- 2 gm per lit of water for foliar application
For Soil Application (Drip/Drenching)- 500 gm / Acre (1.25 Kg/ Hectare)
Packing for Retail Sale- 250 gm, 500 gm, 1 Kg
Packing for Bulk Sale – 25 Kg, 50 Kg