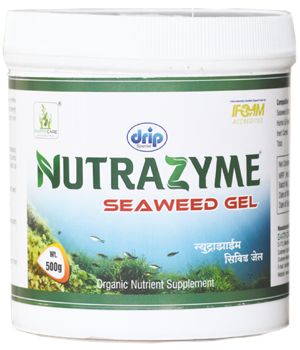 Nutrazyme Gel
Nutrazyme Gel is certified organic fertilizer for soil application & foliar application derived from natural, organic and mining sources. It is stabilized gel form containing ascophyllum nodosum seaweed extracts, humic and fulvic acids. Such type of organic fertilizer provides white root development, nutrient availability and boost up overall plant growth.
Nutrazyme Gel delivers following advantages to the plant.
Nutrazyme Gel promotes early flowering, stronger plants, enhanced seed germination, increased yield & quality.
Enlarged Root System: A larger root system makes better use of available nourishment.
Enlarged Leaf Structure: Increases photosynthesis thereby building stronger plants & giving better harvests.
Enriches the soil and its texture.
Helps plant to work better in stress and adverse conditions and also Improves plant immunity.
Dosage –
For Foliar Application- 2 gm to 2.5 gm per lit of water for foliar application
For Soil Application (Drip/Drenching)- 500 gm / Acre (1.25 Kg/ Hectare)
Packing for Retail Sale: 250 gm, 500 gm & 1 Kg
Packing for Bulk Sale: 50Kg, 200Kg