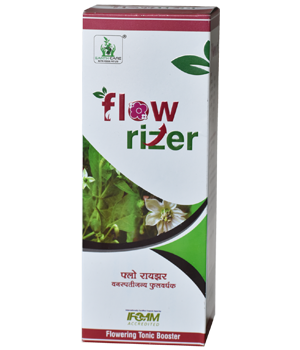 Flowrizer- Flowering Tonic Booster
Flow Rizer is certified organic agriculture fertilizer with flowering tonic booster formula which delivers balanced nutrients containing natural growth hormones, organic N-P-K, traces of essential minerals, vitamins for reproduction & overall growth of plant. Flow Rizer formulated natural sources like plant and animal. 
 Flow Rizer delivers following advantages to the plant.
It stimulate plant for reproductive capacity of plants
Helps plant for flowering in stress & adverse climatic conditions.
Increase in numbers of flowers require to get desire fruit yield
Also helps to reduces flower and fruit drops
Combination of Nutrazyme and Flow Rizer foliar spray boost up fruit setting and development as well
Increase in overall crop yield, quality , shelf life etc
Time of Foliar Application                                       
1st Foliar Spray - Before Flowering    
2nd Foliar Spray - After Flowering
Dosage - 1.5ml to 2ml per lit of water for foliar application
Packing for Retail Sale- 250 ml, 500 ml, 1 L
Packing for Bulk Sale – 50L, 200L & 1000L